The blow molding machines offered by TES use global achievements in mechanical and electronic engineering. It has been confirmed many times at the packaging industry exhibitions and fairs. We use the latest generation of solutions while producing blow molding machines for blowing PET bottles form preforms.
The best solution for PET bottles production on the market. Characterized by high 99% efficiency, automated control system, minimized maintenance time and quick change of forms.
Unique on a global scale, patented air recovery system puts the TES blow molding machines in the first place among producers of energy-saving PET bottle blowing solutions.
BlueLine machines are fully automatic machines and may be also equipped with innovative solutions offered by Eco Power Innovation System. In BlueLine machine preforms continuously move with a thread turned upwards in the stove.
BlueLine series features:
Available to use many preform neck sizes – system MultiFlex.
Flat bottles blowing with very complicated shapes.
Hot fill bottles production.
Very high bottle  volume range from 10 – 7000ml.
The table below contains profile and basic technical information about BlueLine machines: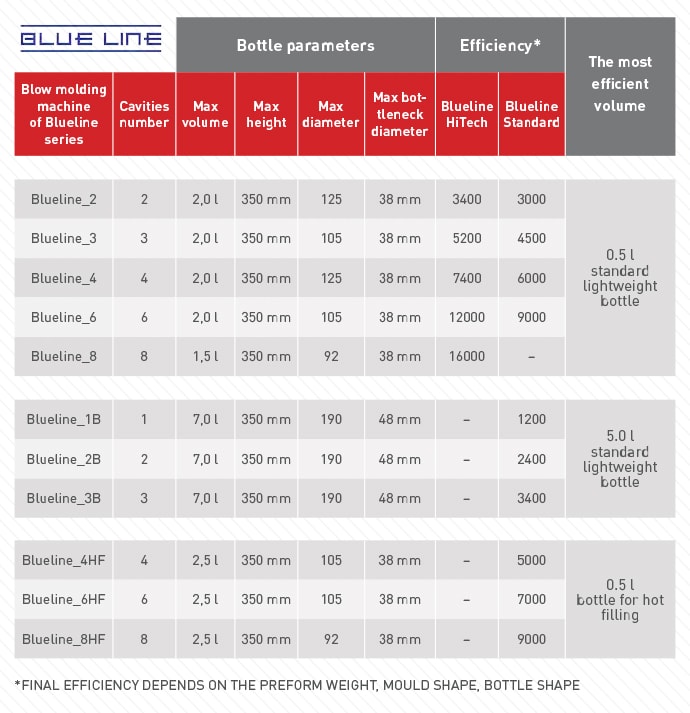 OUR FEATURES